Allstate and The Atlantic honor 10 extraordinary nonprofits with Renewal Awards
Empowering youth—and their families—emerge as themes from this year's winners, who received $150,000 in grants
Margaret Myers
In communities across the country, nonprofit organizations fill in the gaps where resources and support are needed the most. In eastern Pennsylvania, that gap might represent opportunities for children of recently arrived or first-generation immigrants. In central Texas, it might represent a chance for young Latinas to pursue post-secondary education. In the Bay Area, it might represent the next generation of entrepreneurs and small business owners.
Today in New Orleans, 10 organizations from Hazleton, Pennsylvania, to Oakland, California, were recognized for finding and creatively filling those gaps. In the third annual Renewal Awards, Allstate, The Atlantic, and the public have chosen 10 organizations that exemplify how American innovation and ingenuity can make our communities stronger. They announced the winners today, and will recognize them in a ceremony this morning in New Orleans.
From The Atlantic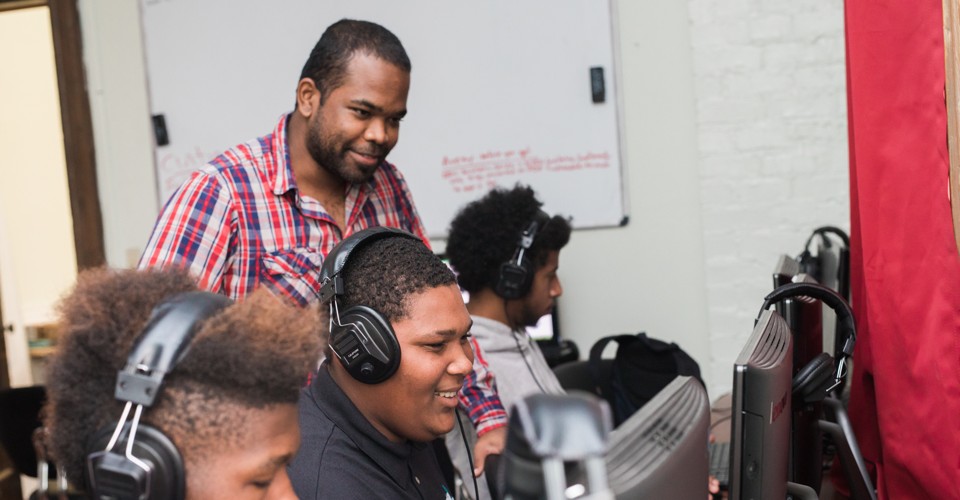 The Renewal Awards recognized the 10 organizations with grants from Allstate to further their work. Five winners received $20,000, with one winner receiving the Allstate Youth Empowerment award, and another five runners-up were awarded $10,000.
The winners were selected by public vote and a panel of judges that included editors from The Atlantic, past Renewal Award winners, former public officials, and nonprofit leaders. Allstate selected the Youth Empowerment award winner.
Read more about the five first place winners, each awarded $20,000:
Hazleton Integration Project, Hazleton, Pa.
In 2013, The Hazleton Integration Project repurposed a former Catholic school building to create the Hazleton One Community Center. Since then, and under the guidance of Chicago Cubs Manager and Hazleton native, Joe Maddon, the organization has used the facility to provide a central location to create productive opportunities for economically disadvantaged children. These kids participate in a variety of no-cost or low-cost educational, cultural, and athletic activities. With just over four years of operation, the nonprofit has become a vital resource in the city of Hazleton, with over a thousand visits every week.
Con Mi MADRE, Austin, Texas
Con Mi MADRE empowers young Latinas and their mothers through education and support services that increase preparedness, participation, and success in post-secondary education. Programming services start in the 6th grade and continue until the students graduate from college. With the support of community partners, Con Mi MADRE has made a significant impact on its community: 100 percent of participating seniors graduate high school and 80 percent enroll directly into post-secondary education. Additionally, more and more mothers go back to school after going through the program with their daughters. Con Mi MADRE provides the support for girls and their mothers to live healthier lifestyles, physically, emotionally, and mentally.
Let's Innovate Through Education, Memphis, Tenn.
Let's Innovate through Education (LITE) equips African-American/Latinx students with 21st-century skills to create wealth. LITE's vision is to close the racial wealth gap by empowering young entrepreneurs of color to launch scalable businesses through an eight-year training model that prepares students from age 17 to age 25 with capital, networks, and coaching. LITE has impacted over 2,000 students with its program and 90 percent of students are on track to graduate college. Forbes named LITE one of the 20 ideas that can change the world.
AnewAmerica, Oakland, Calif.
AnewAmerica changes lives through creating economic opportunities for targeted communities. Many communities face economic insecurity with no means to accumulate wealth. AnewAmerica leverages entrepreneurship to train and coach individuals to start their own businesses that support economic growth for themselves and their communities. They provide clients business incubation and technical assistance. AnewAmerica also hosts two of the four U.S. Small Business Administration Women's Business Centers in Northern California.
Youth Empowerment Project, New Orleans (Allstate Youth Empowerment winner)
The Youth Empowerment Project (YEP) engages underserved young people through community-based education, mentoring, employment readiness, and enrichment services. For 13 years, YEP has designed and operated innovative free-of-charge programs that meet the needs of out-of-school and disconnected youth helping them develop skills and strengthen ties to family and community. In 2017, the organization served 1,252 participants through 11 programs at six sites.
And read more about the runners-up, each awarded $10,000:
F.A.R.M.S, Rock Hill, S.C.
Family Agriculture Resource Management Services (F.A.R.M.S.) is a regional nonprofit that provides legal services to aging small farmers while alleviating hunger in the farmer's community by allowing them to do what they love to do—grow food. Over the past four years, they have donated over 220,000 pounds of produce to food banks, homeless shelters, and child and elder care centers in high poverty communities in a seven-state region. They have saved a farm from foreclosure due to a predatory lender and hosted multiple workshops on estate planning issues for aging farmers throughout the South.
Profound Gentlemen, Charlotte, N.C.
Profound Gentlemen's mission is to build a community of male educators of color who provide a profound additional impact on boys of color. Currently, two states across the nation have a high school graduation rate of 80 percent for boys of color. Studies show that when boys of color have male educators of color, they are more likely to graduate from high school, experience increase self-esteem, and have greater chances of pursuing a four-year college degree. Unfortunately, only 2 percent of teachers in public schools are men of color. To date, Profound Gentlemen supports over 225 men of color in education who teach across the nation. In 2017, 100 percent of Profound Gentlemen's educators returned back to the field of education better prepared to impact students.
Fugees Academy, Atlanta
Fugees Academy, a tuition-free private school outside of Atlanta, serves an exclusive population of refugee students from around the world. Every Fugees Academy student is a student-athlete, as soccer is mandatory for all students in grades 6-12. On and off the field, students learn the values of hard work, teamwork, and persistence. Using an approach where "Montessori meets military school," students can discover safety, healing, and ultimately cultural integration as they matriculate into higher education and the workforce while transforming the trajectory of their families' stories.
Soldiers' Angels, San Antonio, Texas
Soldiers' Angels is a national nonprofit that provides aid and comfort to the men and women of the United States Army, Marines, Navy, Air Force, Coast Guard, their families, wounded heroes, and a growing veteran population. The organization began as a grassroots effort by the mother of two American soldiers and has grown to become a network of hundreds of thousands of "Angel" volunteers who assist veterans, deployed personnel, and their families in a variety of unique and effective ways. Founded in 2003, 2018 marks the 15th anniversary of Soldiers' Angels' support for our nation's heroes.
Summer Search, San Francisco (Allstate Youth Empowerment winner)
Summer Search bridges the educational opportunity gap faced by students from low-income backgrounds, particularly students of color, in an effort to break the cycle of poverty. They do this by partnering with high schools and families in underserved communities to increase the number of students who successfully enter and complete college. Through a combination of mentoring, summer experiential opportunities, college advising, and financial literacy support, Summer Search students strengthen the skills they need to thrive in school and in life.