Lessons in disrupting the bipartisan divide from a former Hill intern
Thanks to the innovative nonprofit College to Congress, DaQuawn Bruce earned an opportunity to witness firsthand the inner workings of true bipartisanship in Washington.
Caitlin Fairchild
DaQuawn Bruce knows a thing or two about civic engagement. At 25, he's working as a junior lobbyist in Washington, D.C. In his spare time, he's starting his own nonprofit with his mom to teach under-resourced young people how to be entrepreneurs. He's also training for an Iron Man.
DaQuawn credits his time in the College to Congress program, where he served as an intern to U.S. Sen. Tim Scott (R-S.C.), as an ingredient in his success. The nonprofit works to create a more inclusive government, starting with congressional internships. It is one of five winners of the 2020 Renewal Awards, a program, from The Atlantic and Allstate that honors nonprofits that are creatively solving problems in their communities.
"It's important that we have the best and brightest minds, but sometimes individuals cannot afford those opportunities," Sen. Scott told Allstate. "College to Congress and other groups allow our Congressional offices to benefit from the candidates who may not have the chance to otherwise work in Washington."
DaQuawn first became interested in politics through encouragement from a high school teacher, and that passion has since blossomed into his current career. But the journey wasn't always easy. Following his internship on Capitol Hill, DaQuawn was hit by a stray bullet during a drive-by shooting in his native Chicago. College to Congress helped fund his recovery and ensured he could attend graduate school at Carthage College in Kenosha, Wisconsin, to study business design and innovation.
We spoke with DaQuawn about the power of bipartisanship and how to foster a passion for civic engagement in today's young people. This Q&A has been edited for length and clarity.
---
What initially inspired you to apply to College to Congress?
My friend shot me a text and he was like, "Hey, I just heard about this organization, but I think you will be perfect for it." I ended up looking at it and it was one those moments. I was like, "This is too good to be true." I had received two other internship offers in D.C., and I had to turn both down because they both were unpaid. I'm from a family where we can't afford that. So, I took some time from my thesis writing, a couple of hours and I crafted a statement and I reached out to all my mentors and got two recommendations. And that was it.
I was just completely blown away at the mission and what they are doing for people like me, who come from lower-income families, where we're typically excluded from opportunity on the Hill because of the larger overhead costs that it takes to live in D.C.
As a political science student, you already had an understanding of how Congress operates. When you first got to Capitol Hill, what surprised you the most about how things work?
What surprised me the most is how bipartisan everything typically is. You don't just have the physical offices of a Democrat and Republican next to each other, but you have their staff co-mingling. There are even people who work in some offices that don't necessarily subscribe to the same party platform as the member that they work for, and yet they still work for this member. They find that common ground, not just for a job, but because they believe wholeheartedly in their members and what we're all fighting for.
That's surprising, as a common lament these days is that society is increasingly divided and polarized. How do you think we can boost bipartisanship in regular life and reduce that polarization?
This is something that I've definitely thought about quite a bit. It requires the ability for us to look past our political leanings and ideologies and see each other first and foremost as individuals, as human beings, and as people who live and breathe as we do.
"When you can trust someone as an individual, it makes it easier for you to compromise when it comes to politics, because you value the person."
With College to Congress, their pride is their Bipartisan Ally program. It's where they partner their students with senior-level Hill staffers who are of a different party and political ideology. They base their pairings off of our shared interests outside of the political sphere.
With my bipartisan ally, the thing that brought us together is that we both had very similar backgrounds, where family had deep ties. And we both at one point identified with being on the other side of the aisle and then made a switch. We both really love cooking and hospitality and musicals and family. There were very similar interests outside of the political sphere that allowed us to come together, and that kept us together in a friendship that extended beyond politics.
You see that quite often on the Hill, that staffers as they get to know one another form a connection outside of politics. When you can trust someone as an individual, it makes it easier for you to compromise when it comes to politics, because you value the person.
That's wonderful! How are you applying lessons learned from your time with College to Congress into your current job as the government affairs associate at Iron Mountain?
My job is two-fold. I'm a junior lobbyist, and I support our senior government affairs team, with a portfolio around cyber security, federal IT modernization, federal procurement and privacy. On that side of things, it's a lot of working the connections that I've made on the Hill and continuing to build relationships across the aisle. I'm also a PAC coordinator and run the corporate PAC, which is bipartisan. I've actively sought work that leads me to function in a more bipartisan manner. It's what keeps me moving forward, that I'm able to play a part and promote a Congress that is truly reflective of the American people.
You said in an interview with Allstate, "I learned the value of my story and life experiences and how to use them in support of others like me." I think that's a beautiful idea; can you expand upon that a little more?
I'm from the South Side of Chicago. I grew up in a community where everyone had a similar upbringing to myself. I never considered myself to be unique, or truly different, or have a story that's worth telling. Being a part of College to Congress taught me that my story is unique, and that it's worth telling, and that there are people who will listen if I know how to own it.
My dream is to change the way people see themselves and their potential and to understand that no matter their background, no matter what they've been through, that they can still reach those goals that seem unimaginable. The way I do that is by using my life as an example.
In 2018, right after I finished my [College to Congress] internship, I decided to go to grad school. A week after I moved back to Chicago, I was shot in my lower abdomen and one bullet fractured my hip and I wasn't able to walk. Just a few months later in November, my cousin who I was raised with was murdered.
That became a part of my story and that shifted my perspective and my goals to be more actionable, instead of ideological. One of those things that I'm actually in the process of doing with my mother is starting a nonprofit in honor of my cousin, to curb violence by promoting economic opportunities within the community in which I grew up.
Read More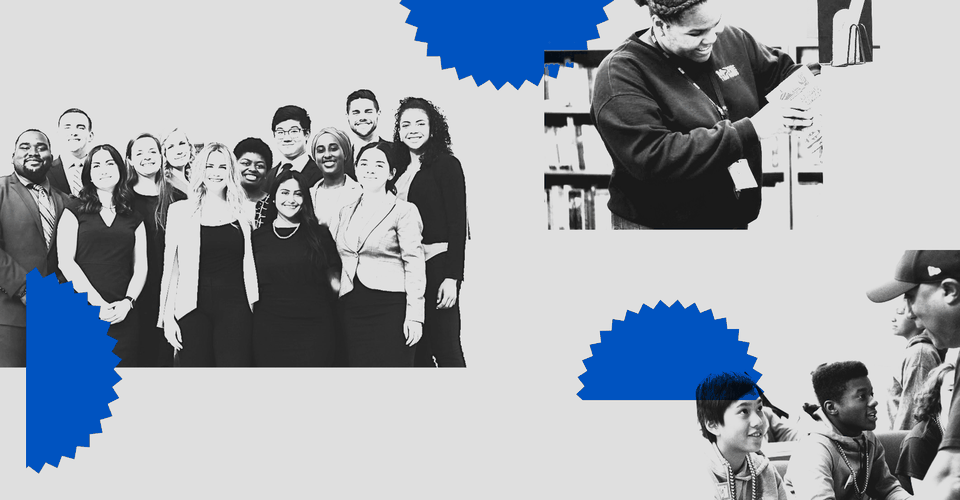 Can you tell me more about this nonprofit?

The name of the organization is called Project 26, inspired by my cousin, Darius; he passed at 26 years old. The mission is to equip young men and women with the tools they need to transform their communities and thrive in a life beyond the age of 26.
We hope to teach young people, who have been identified as either at risk of perpetrating gun violence or being victims of gun violence, how to be entrepreneurs. We want to help them launch their own businesses within their own communities so that they can be a source of jobs within the community, and show other young people that there is another way. That you can have larger goals in life. You can have a vision and a purpose, and that can be realized within your community in the South or West Side of Chicago. Right now we're still very much at the ground level where we just applied for the 501(c)(3) status.We hope to have our first cohort by the next summer.
What do you think is the best way to inspire young people to get involved and participate in civic engagement? When you were younger, what's the thing that inspired you?
I would say what got me involved in civic engagement was actually getting in trouble.I've always been very outspoken and the type who would always challenge authority. One of my high school teachers noticed and she said to me, "You got a lot of energy. I think we need to put that to use." She took me to a neighborhood team leaders community meeting for the Obama for America campaign and got me an internship with one of the regional directors for the Obama campaign. It ignited that fire in me and it showed me how important it is for all of us to really get involved.
To young people, I will say that it's important to exercise your civic duty because of the fact that you will be the beneficiary of whatever policies are put into place. We are the ones who will inherit it. So if we want a future that is better for us and the way we see America, then we're the ones who have to change it.
Caitlin Fairchild
Caitlin Fairchild is the Deputy Editor of The Renewal Project.